What a better way to discover a culture than to try its food? In countries where every meal is a social experience rather than a mere act of sustenance, it is hard to not get sucked into the fascinating flavors of South American food and the tastes that define the food habits of Latin America. So, to lure you in, we have listed the top 13 food blogs that will give you direct access to the true essence of Latin American food.
While you may not have planned to fly to Lima for a juicy ceviche, the highlight of Peruvian food or you might not find the time to ramble the streets of Buenos Aires in search of a tasty asado feast, an Argentinean food classic, we encourage you to discover the hundreds of authentic recipes from Latin-American chefs and 'Latin food lovers' we have compiled here for you.
Every food blogger that made it to our list was carefully hand-picked for their traditional approach to cooking, their ability to share their passion for their homeland, the quality of their blog and, of course, the caliber of their recipes. As Travel Experts we wanted our list to represent the great variety of Latin American cuisine from the Gulf of Mexico to the strait of Magellan.
So, whether you are looking for inspiration to cook traditional Ecuadorian food, modern Chilean food, spicy Colombian food or hearty Brazilian food, grab your cooking utensils and heat up your pans as we invite you on a culinary journey from simple snacks to elaborate dishes from the rugged South American coast, the high plateau of the Andes, the depth of the tropical jungle and the white sand beaches of the Caribbean.
---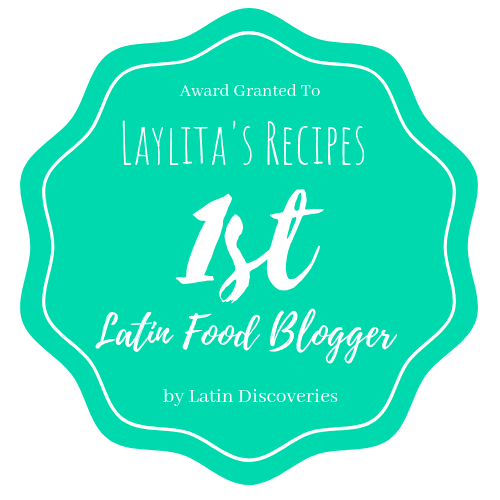 Here is our top pick, our go-to site for tasty recipes and comprehensive information about Latin food. Raised in Ecuador, Layla started her food blog from her adopted home in Seattle, WA. with the intention to pay homage to her childhood's sweet and spicy memories.
Acclaimed by many Latin food specialists, her food blog gets first place for the unbelievable amount of work that has gone into her research, the quantity, the quality and the authenticity of the recipes shared, the detailed photos used to illustrate every dish preparation, the super-handy downloadable/printable versions of every recipe and the additional cultural notes that strongly resonate with us. With one section dedicated to Latin dishes and another one for strictly Ecuadorian food recipes, this is by far our favorite blog. Additional thumbs up for the tutorial videos and for having the site available in English, Spanish and French. Start your travel with a visit to Laylita's kitchen, for a pre-taste of your visit to Ecuador and impress your guests with ravishing flavors.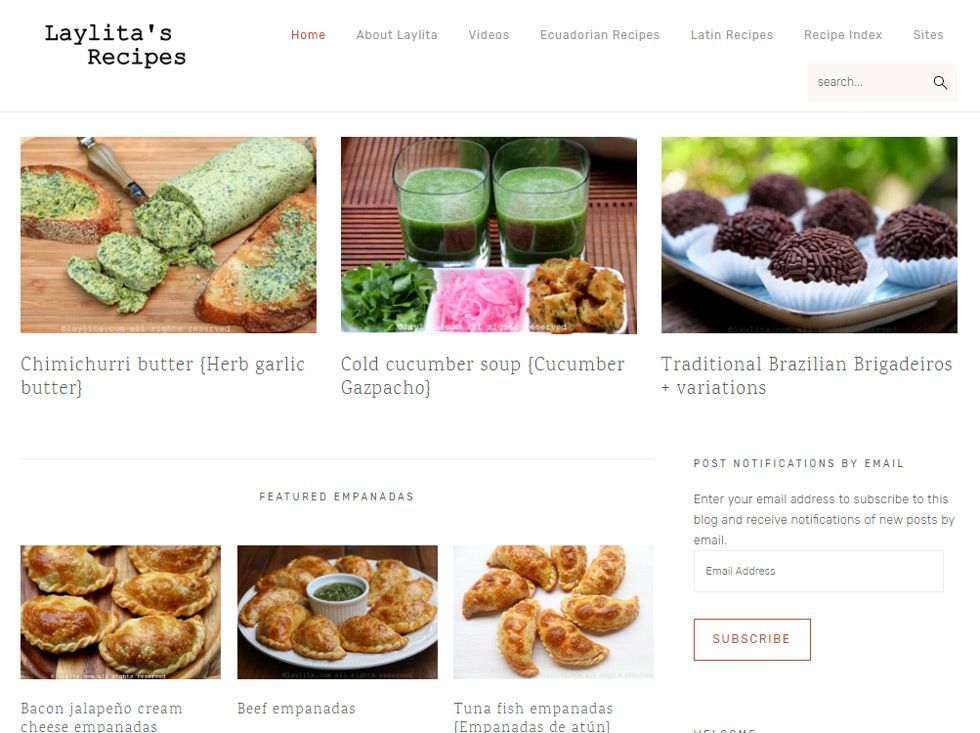 ---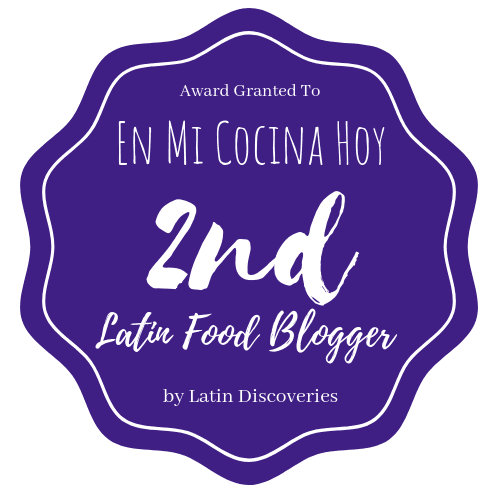 Chilean-born, Houston resident Pilar is an exceptional cook and a dedicated gardener. We love the plethora of recipes on her Chilean food blog that cover everything from hearty meals to refined desserts.
An exhaustive Chilean section and lots of traditional South American food recipes that got this site its #2 spot on our list. You will appreciate how easy it is to browse through the huge numbers of dishes on offer and how beautiful Pilar makes it look. Extra kudos for the numerous photos that illustrate some of the crucial steps for her recipes. This is a compulsory stop on your travels through South American cuisine while you plan your next trip to Chile.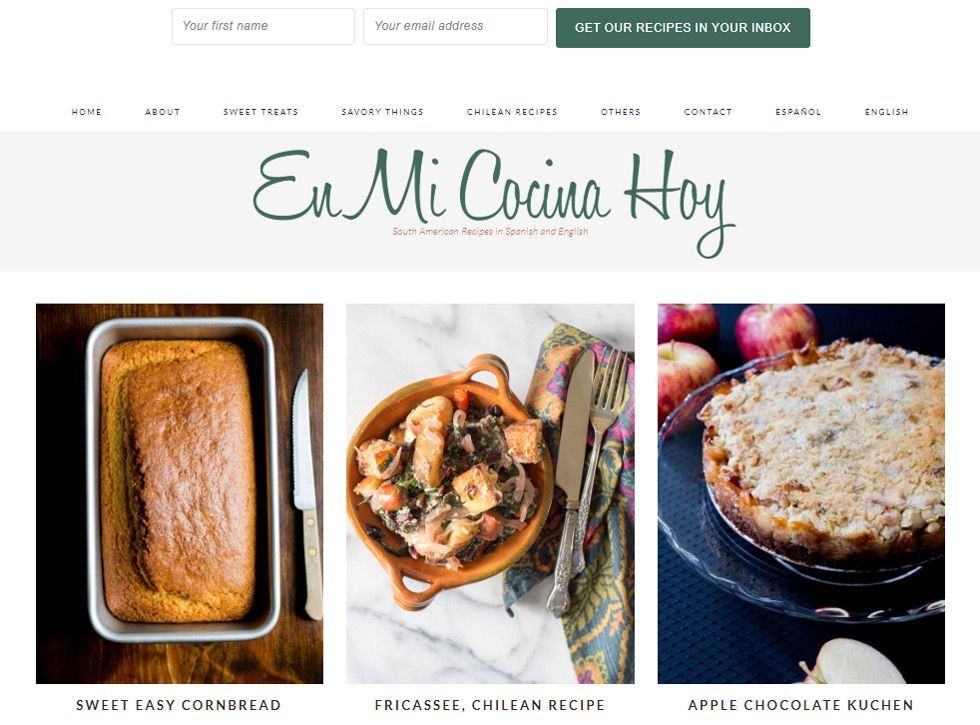 ---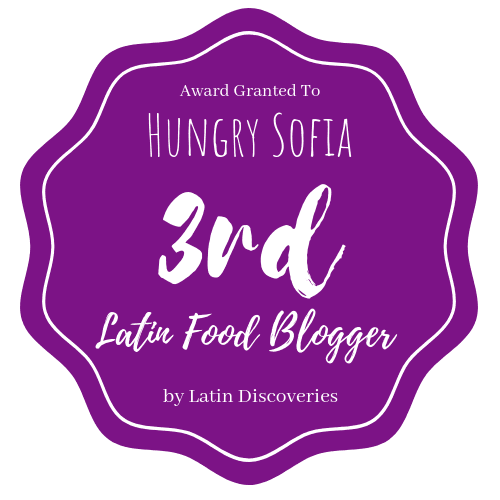 Born out of the desire to explore the recipes of her Cuban grandparents, Sofia's kitchen experiments have made her a true advocate and specialist of Latin cuisine and her blog is a compulsory stop for any Latin food lover.
With meticulously researched recipes, every dish on her blog comes with a personal story that add an extra dimension to the food. We love the spontaneity of some of the blog entries, the exceptional design throughout the site and the high-quality photos that illustrate every recipe. Her exploration of her Caribbean culinary heritage and greater Latin American cuisine is what got this gorgeous blog on our top 3, so take time to linger with Sofia as she uncovers all the secrets she found along her journey.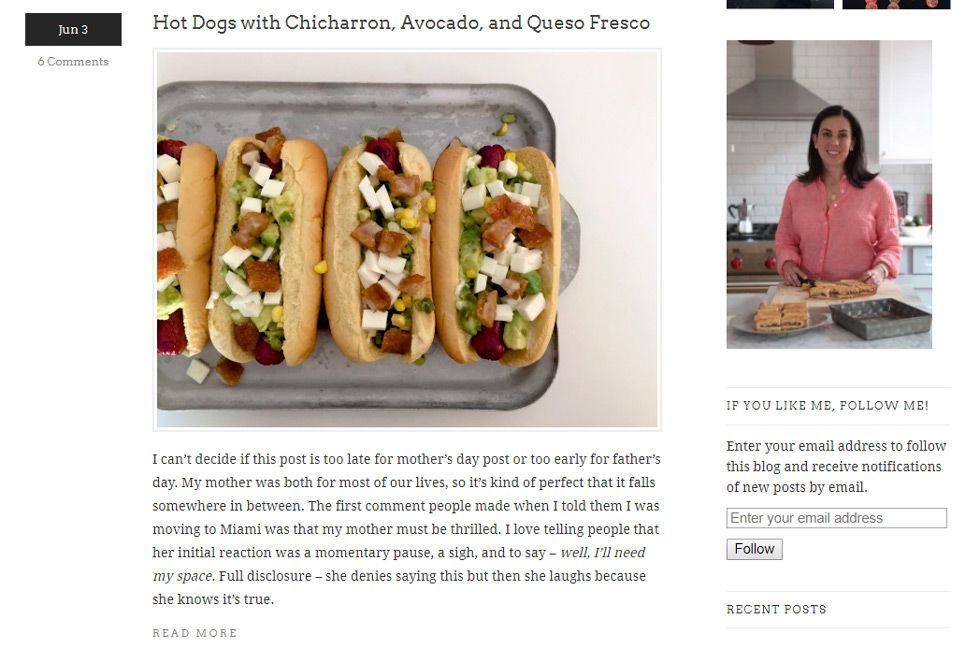 ---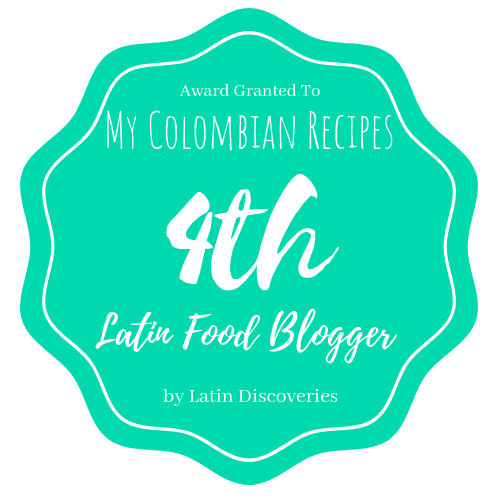 After moving to the USA from Colombia, Erica felt the urge to record and share the fond memories of her grandmother's cooking. A very well-furnished blog, with clearly indexed menus that allow for quick searches through the dishes, Erica saves you the hassle of browsing through all her recipes to find what you are looking for. While most of the site is about Colombian food, she also shares a lot of typical Latin dishes that she revisited. If you are adventurous enough to add a little heat and a lot of colors to your kitchen, you will love to spend time exploring the secrets of Colombian food with Erica.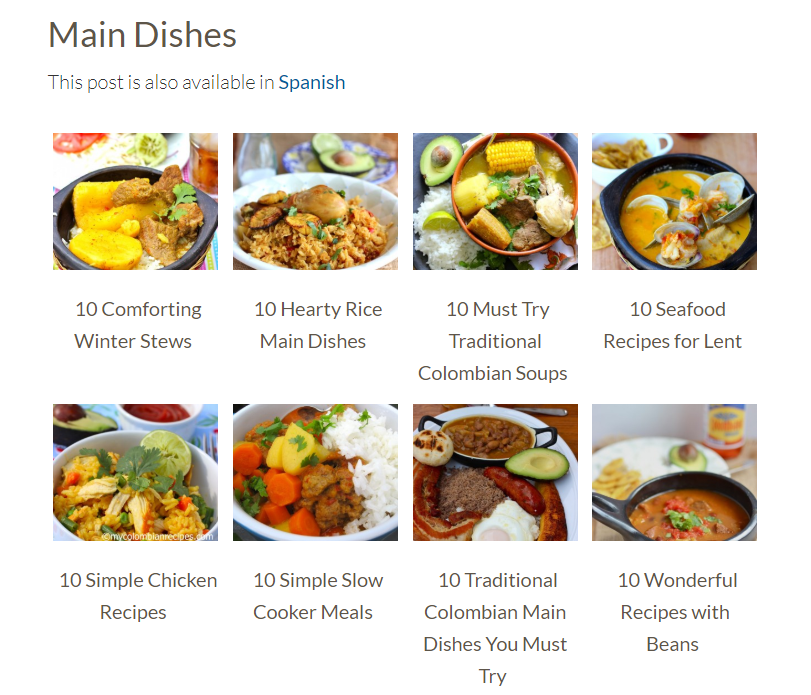 ---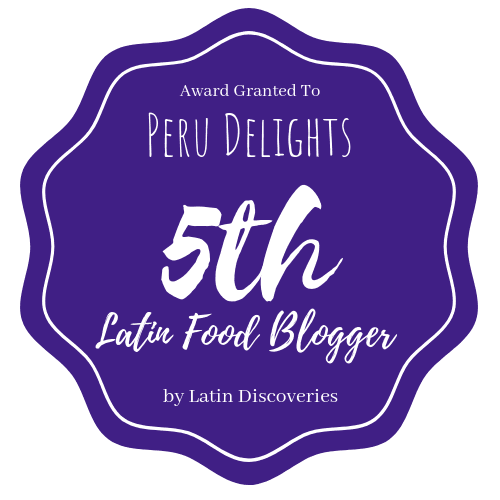 There is a sweet family story behind this excellent Peruvian food blog. A mother and a well-traveled daughter deciding to share their love and knowledge of Peruvian food with a focus on health benefits. As can be expected, you will find many typical Peruvian recipes as well as a lot of modernized and vegetarian versions of traditional dishes. The options are all thoroughly illustrated and very appetizing. We love the variations on the national ceviche including a refreshing scallop ceviche, a tasty way to discover the flavors of the coast of Peru before planning your journey to Lima, the World's best food city.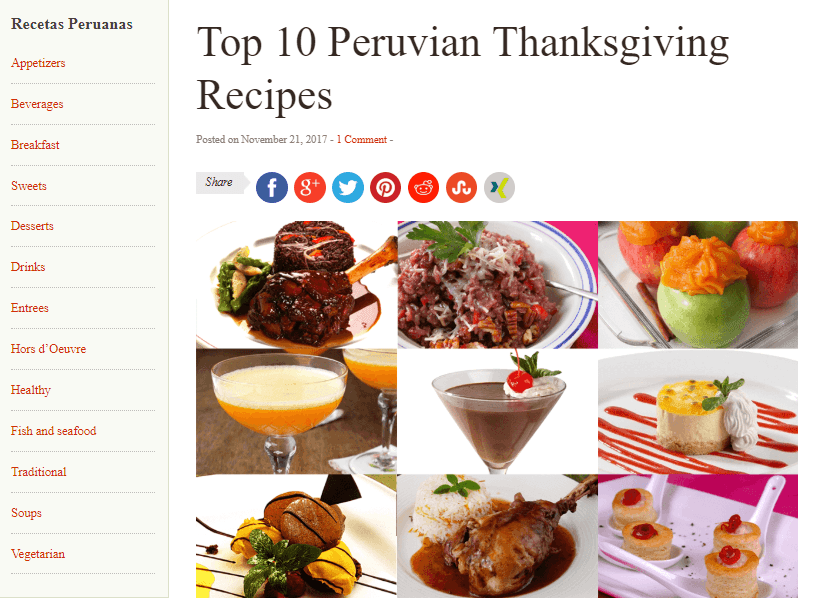 ---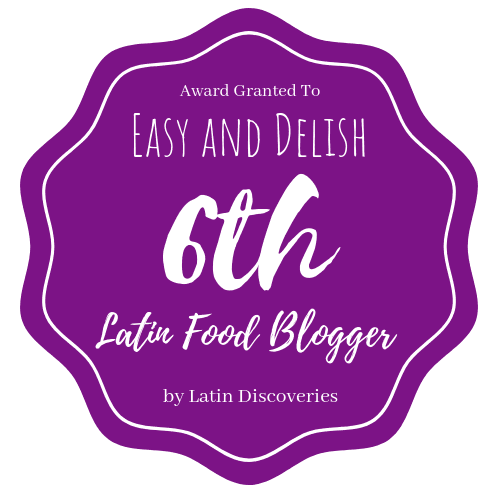 Originally known as 'From Brazil to You', the largest blog in English about Brazilian food, Easy and Delish is the work of Denise Browning, a lawyer turned professional chef after she moved from Brazil to the USA in 2002. The highly professional site has been bookmarked as a favorite since its new launch in 2017 and we now have the opportunity to reward and share the quality of Denise´s cooking. So, if you are craving to explore the flavors of the different regions of Brazil and bring to your kitchen the beautiful cuisine of one of the largest countries in the world, look no further and follow us on an easy and delish voyage of the senses.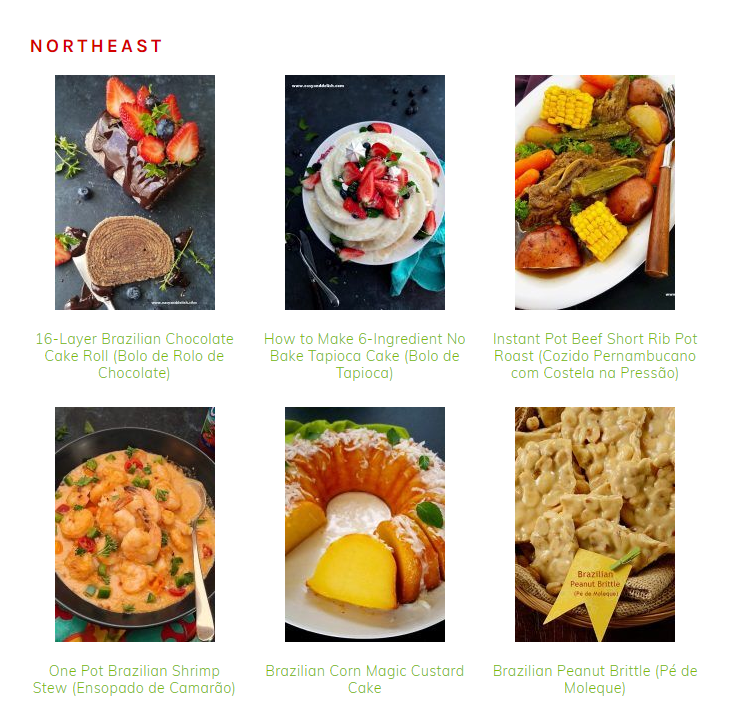 ---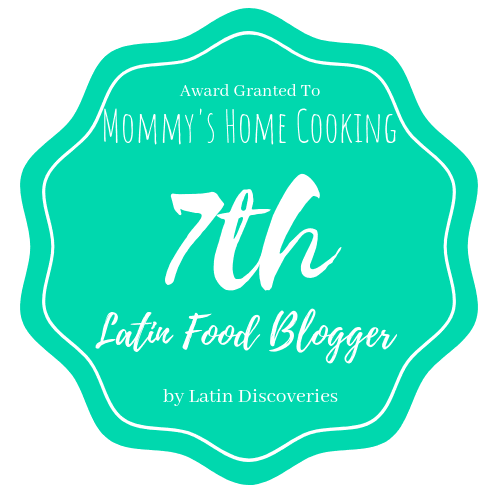 Venezuelan-born Oriana is an exceptional recipe writer and a talented photographer living in Washington DC. Her site contains gorgeous photos and tasty recipes from the Latin world, but we really go back to it as our number one reference for traditional Venezuelan food. While most of the dishes are very easy to prepare, some of Oriana's recipes will present an exciting challenge for the chili aficionados out here. Come along for another great stop on your sensory travels to South American and enjoy the flavors of our #7 pick.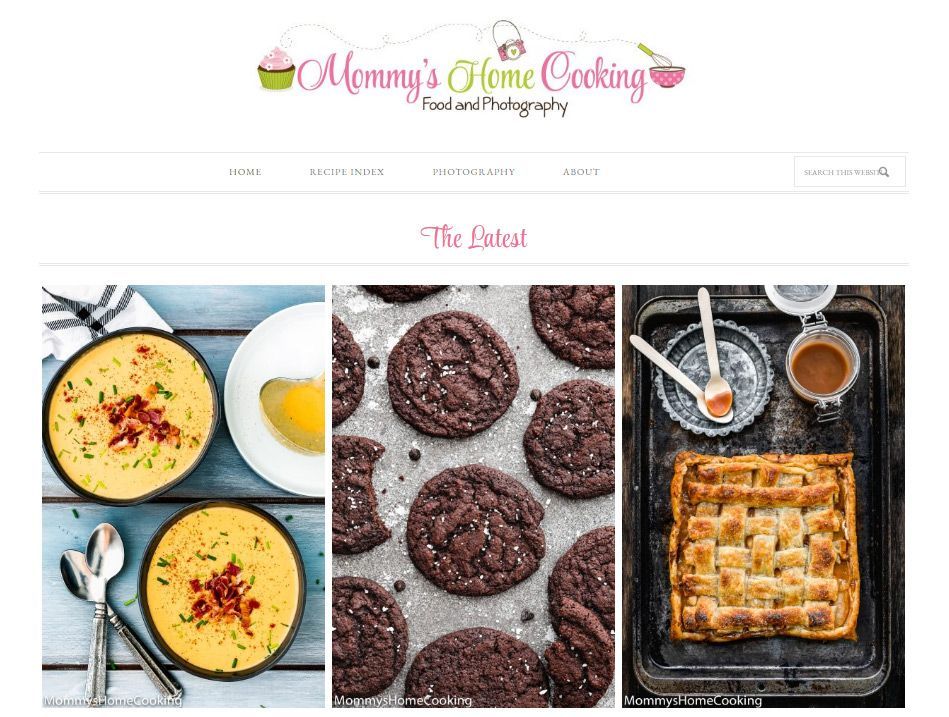 ---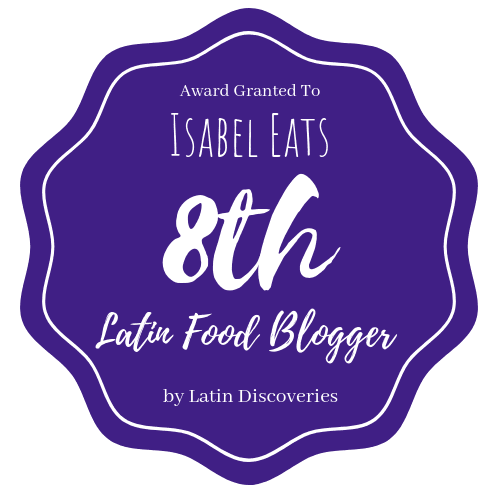 An excellent blog about Mexican food, Isabel Eats is a very well-designed and comprehensive site. Isabella is a fine cook, a prolific writer and an excellent photographer but most importantly she has a natural talent for sharing the excellent recipes she has gathered from her family and from experimenting in her kitchen. With hundreds of posts, her blog might well become the new encyclopedia of Mexican food one day as it covers everything from traditional dishes to modern Mexican cuisine with vegetarian, vegan, paleo and gluten-free options. A rejuvenating stop for every Latin food explorer.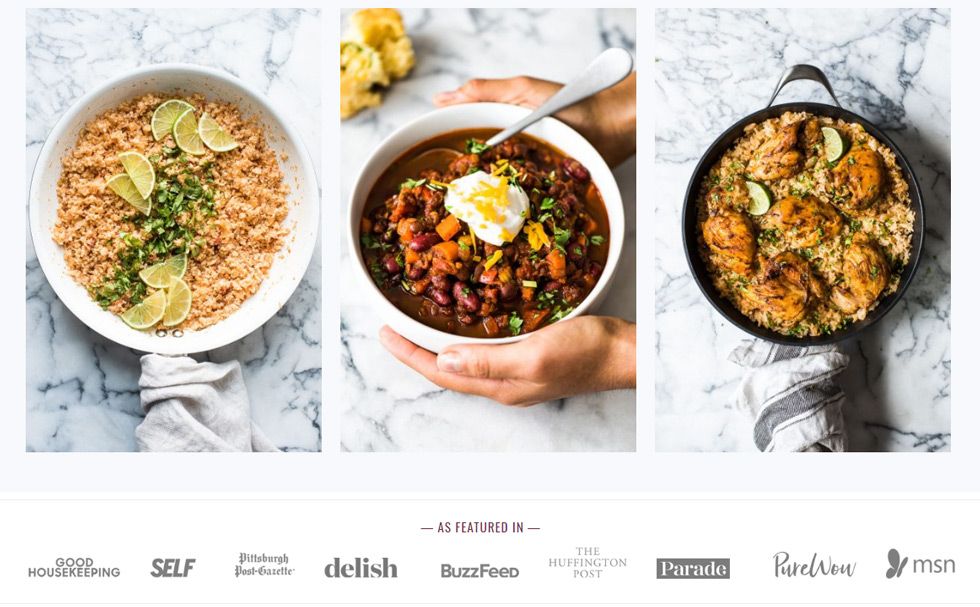 ---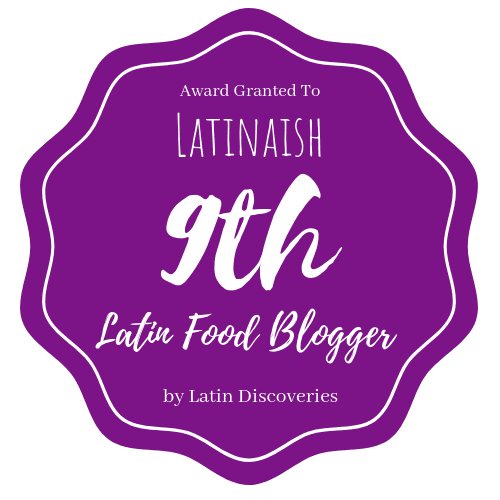 Tracy is a daring explorer of the Latin food world. After marrying her Salvadorian husband, Carlos, 20 years ago, she started a journey of her own by teaching herself recipes from El Salvador and went on exploring the rich flavors of Latin American food. Her recipes read like diary entries and every dish comes with a very personal description. We like the authenticity of her voice and the real work that she puts behind every dish that she generously shares. You have got to love the anecdotes about her married life that add some bite to her lovely blog posts. Latinaish is our favorite Central American stop on our culinary journey so we wanted to share our little secret place with you.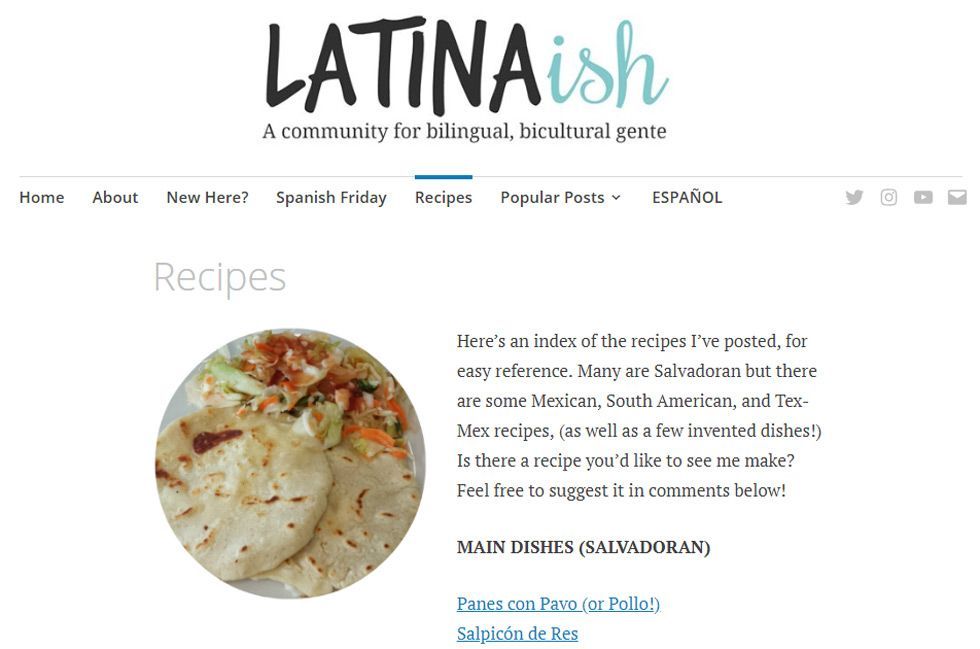 ---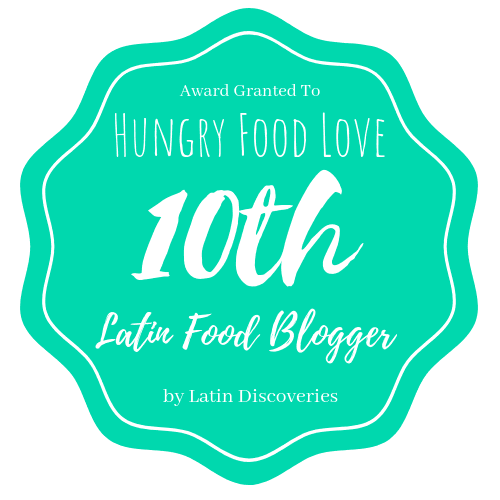 A celebrated author and excellent cook, Melissa is the perfect guide for a Caribbean food discovery. Hailing from the Dominican Republic she has ravished many of us by the quality of her blog and the creativity of her recipes. Borrowing from her own culinary heritage and other Latin flavors, her site contains lots of tips and great videos to walk you through your exploration of another great side of Latin cuisine. We leave it to you to sail away on a sea of colors and flavors while navigating the pages of Hungry Food Love.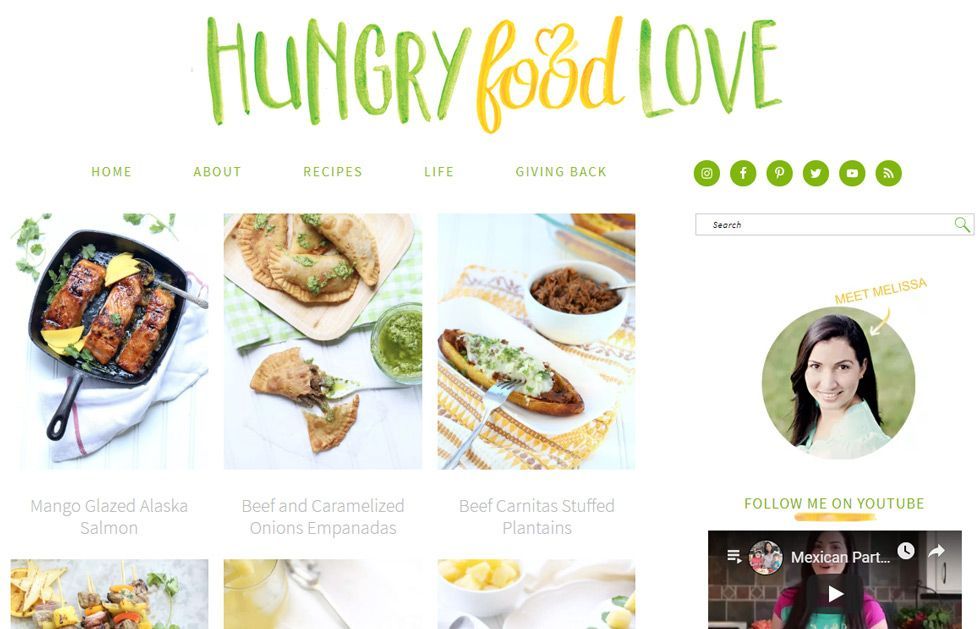 ---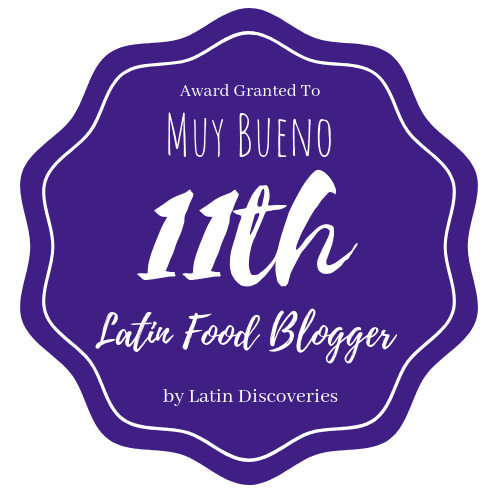 Yvette is a Mexican food superstar, a recognized writer and an award-winning blogger. Much of her success comes from the authentic recipes that the Texan-born chef has shared over time. Relinquishing the secrets of her Mexican family, every dish is a fiesta on a plate, an explosion of colors and flavors that you cannot resist. Her blog is also a place for her to experiment with Latin-fusion dishes so there will be something for everybody on your 'Muy Bueno' visit to Yvette's kitchen.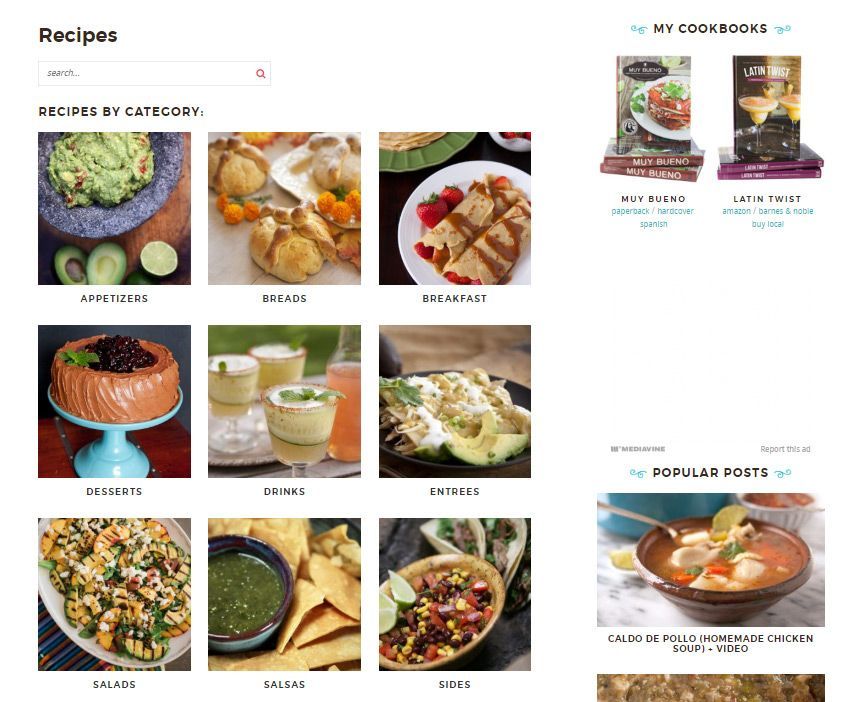 ---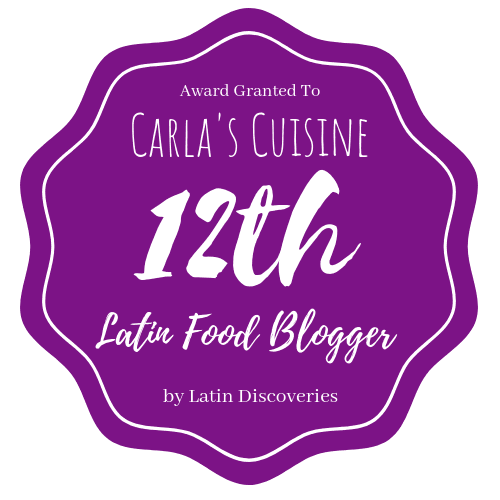 From her adopted city of Melbourne in Australia, Carla has been gracing the internet with Brazilian recipes with a real down-to-earth attitude. Every traditional dish comes with a little cultural background and her twist on modernized dishes are also worth a mention. About here recipes, the opening statement of her blog promises that 'everything will be simple' and she does deliver easy recipes for everyone to get around quickly. So, if you want to get a taste of the northern cuisine of Brazil and travel to the tropics from the comfort of your kitchen give Carla's Cuisine a try.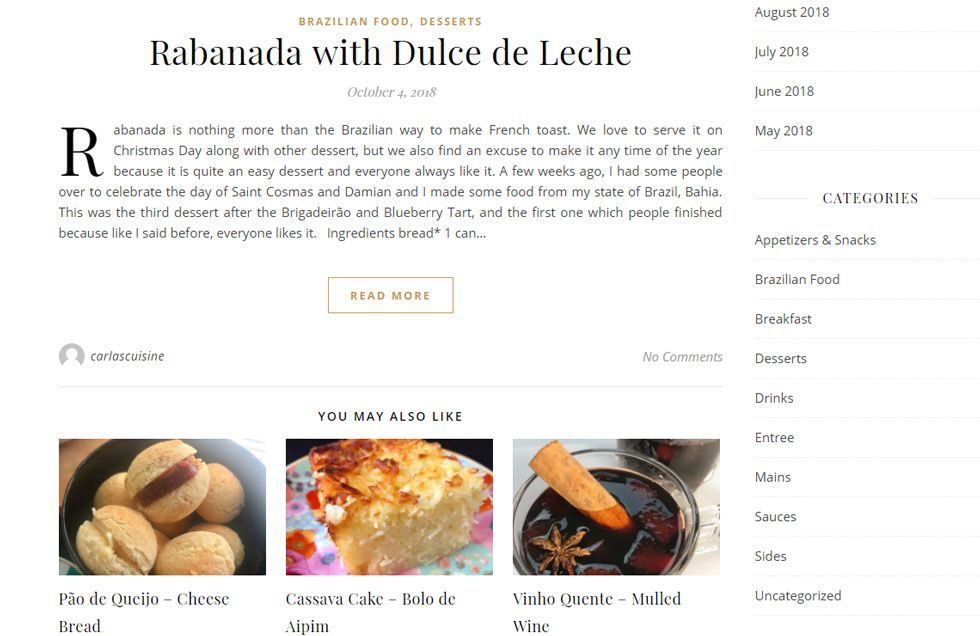 ---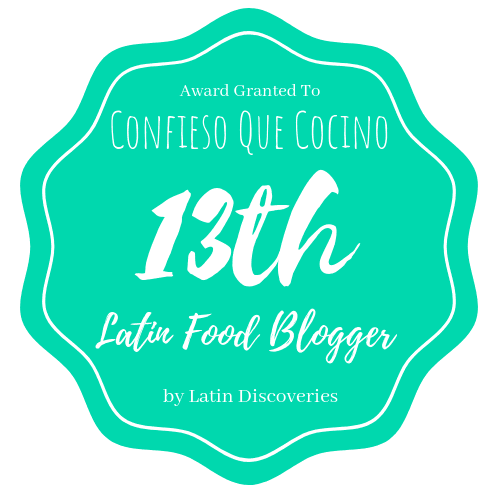 This a bonus entry on our list as it is not in English, but the quality of the recipes and the stunning shots of the dishes make Pilar's blog an essential reference as far as Chilean and Ecuadorian food is concerned. And if after discovering the delicious flavors of Latin America you were not already enticed to learn Spanish or travel to South America, simply trust your senses and browse this exhaustive website in search for meal ideas. Pilar only uses fresh products and thanks to the detailed cooking instructions she provides, your Spanish will have improved before you finish scrolling the first page on her blog. So, slip on your 'delantal' and give the hundreds of recipes a go!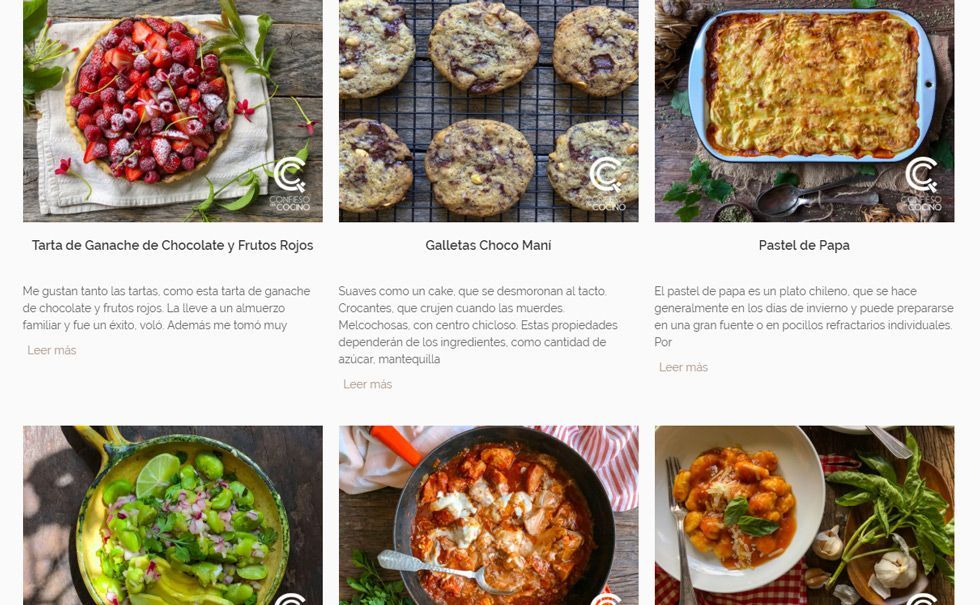 Now that your gastronomic tour has come to an end and you have enjoyed every one of our cherished Latin American food bloggers, we hope they have given you the irrepressible urge to visit their home countries and experience for yourself the magic of South American food. Can you see yourself slurping a pisco sour with Machu Picchu in the background or warming up to a hearty cazuela after a visit to the glaciers of Patagonia? Wherever in South America your travel will take you, we will be here to accompany every one of your steps and guide you through your adventure. We even have dedicated tours for food lovers only so please check our Food & Wine Tours.
'Buen provecho' a todos!