Discover the enchanting Galapagos Islands, conquer Ecuador's mighty volcanoes, or trek through the Amazon jungle. This small South American country is packed with diversity, and finding the right Ecuador and Galapagos travel agency can help you bring your dream trip to life.
Among the hundreds out there, we've narrowed our list down to ten of the best Ecuador and Galapagos tour companies and based our decisions on the presence of local offices so you can receive immediate in-person assistance, their selection of Galapagos cruises, and Amazon rainforest tours, as well as their commitment to eco-tourism and sustainability. Each of these Ecuador and Galapagos tour operators provides high-quality service so you can bike the countryside, trek through the cloud forests, and embark on Galapagos cruises without a single worry.
---
Based in Quito, this local tour operator is dedicated to practicing sustainable tourism by incorporating indigenous communities and small-time artisans into the Ecuador tours they lead for meaningful cultural exchanges. Their large selection of day trips around Quito and multi-day package tours all across the country appeal to a wide audience, including families, couples, groups, and solo travelers. This top Ecuador and Galapagos travel agency offers a modest selection of Amazon and Galapagos tours, with 3 to 5-day getaways to the jungle for hikes, adventure sports, and tubing down the Arajuno River. Aside from their 8-day land tour to the Galapagos, they also offer a 5-day land-based family one that incorporates child-friendly activities like wildlife spotting and light hikes to summits for stunning views. Ecuador Best Tours is committed to bettering its local community and continues to donate food and school supplies to seniors and children.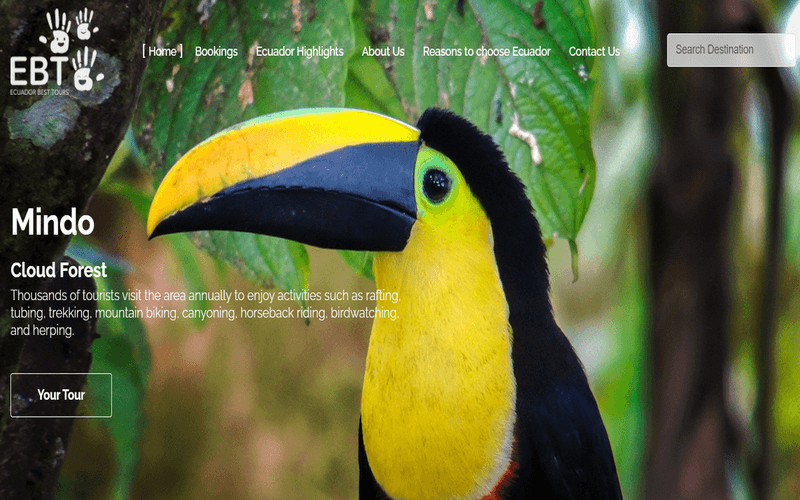 ---
Founded in 2012, this Quito-based British-Ecuadorian-owned tour operator specializes in organizing tours to the Galapagos and Amazon, and in designing tailor-made itineraries for active travelers who love venturing off the beaten path. Their website invites you to browse by theme: active tours, Galapagos tours, Amazon tours, and classic tours, or by destination. If you prefer to join in on a few day trips instead, they offer hikes to waterfalls, crater lakes, and up volcanoes. But if multi-day adventures are more your thing, then pick from a selection of high-quality land-based tours to the Galapagos. Each range from 4 to 5 days in length and include activities like kayaking or snorkeling. Their 4 day Amazon tours introduce travelers to top-notch rainforest lodges in the region and include activities like canopy walking and community visits for a memorable experience.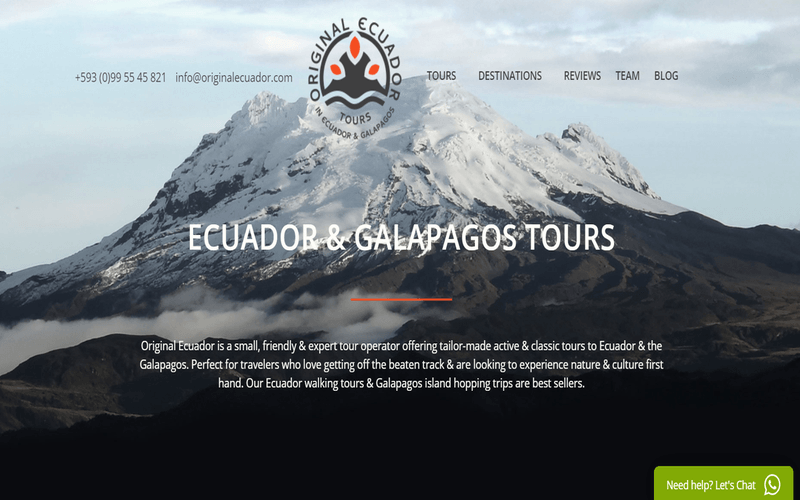 ---
Passionate about crafting tailor-made tours to every corner of the country, Quito-based Ecuador Green Travel presents travelers with a selection of day and multi-day tours. Browse their pre-planned multi-day adventures that combine the best of the mainland and the Galapagos for inspiration and personalize any of them to make it your own. Besides land-based tours, their Galapagos cruises are divided into five different classes, ranging from tourist to deluxe, accommodating 16 to over 90 guests depending on the vessel. Browse their selection of recommended Amazon lodges, thoughtfully divided by the different regions of Yasuni, Cuyabeno, Upper Napo.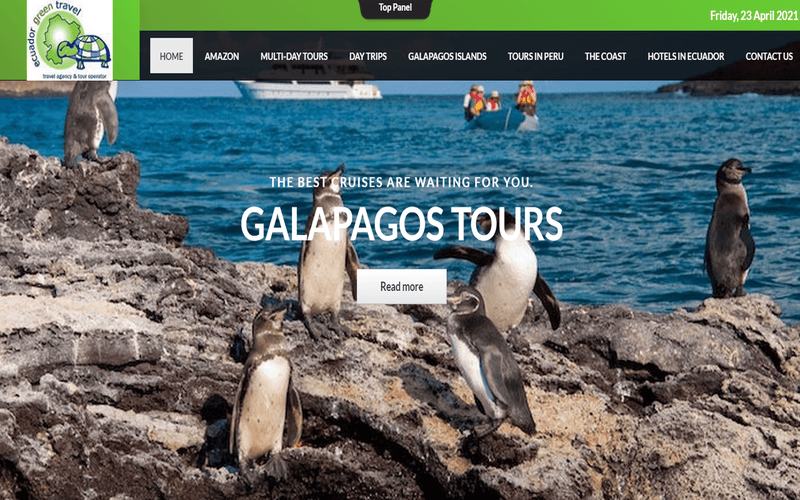 ---
With a heavy emphasis on sustainable tourism, GreenGo Travel encourages carbon neutrality by contributing to your carbon fee depending on your chosen Galapagos Islands tour. Besides day tours through mainland Ecuador, this top Ecuador and Galapagos travel agency also organizes 4 to 15-day cruises to the Galapagos, arranged by category from basic to superior to luxury. But none accommodate more than 16 passengers for an intimate experience. For an unforgettable diving experience, explore the region's remote locations and see the rich biodiversity and marine life up close on a diving tour. GreenGo Travel also works with a number of superior, luxury, and first-class eco-friendly lodges in different regions of the Amazon to provide explorers with the utmost comfort. Opt for a cruise if you want to see parts of the rainforest that would otherwise be inaccessible by staying in lodges.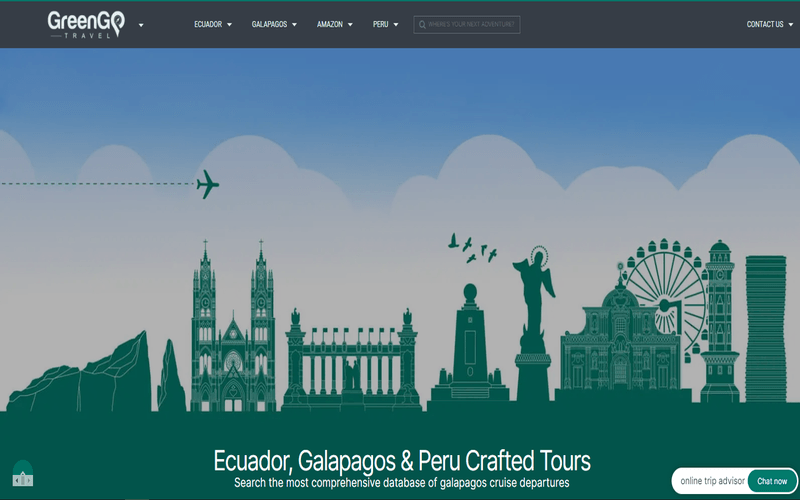 ---
#6 Eos Ecuador
Founded in 2008, Eos Ecuador specializes in top-quality custom tours and places a heavy emphasis on social and environmental responsibility by working with small and honest business operators. In addition to promoting responsible tourism, Eos Ecuador is also committed to donating a portion of its profits to sustainable development projects throughout the country. Their range of Galapagos cruises all accommodate a maximum of 16 passengers and run the gamut from Tourist Superior Class to luxury yachts and catamarans with rooftop jacuzzis and al fresco dining areas. And aside from land-based tours to the enchanting islands, this top Ecuador and Galapagos tour operator also organizes 8-day diving yacht cruises for the scuba obsessed. Those interested in exploring the Amazon have a choice between basing themselves in a cozy lodge deep within the jungle or discovering a part of the rainforest that's more accessible from Quito for shorter stays. Outdoor adventurers will be delighted to know that Eos Ecuador organizes activity-based tours centered around rafting, climbing, cycling, and birdwatching.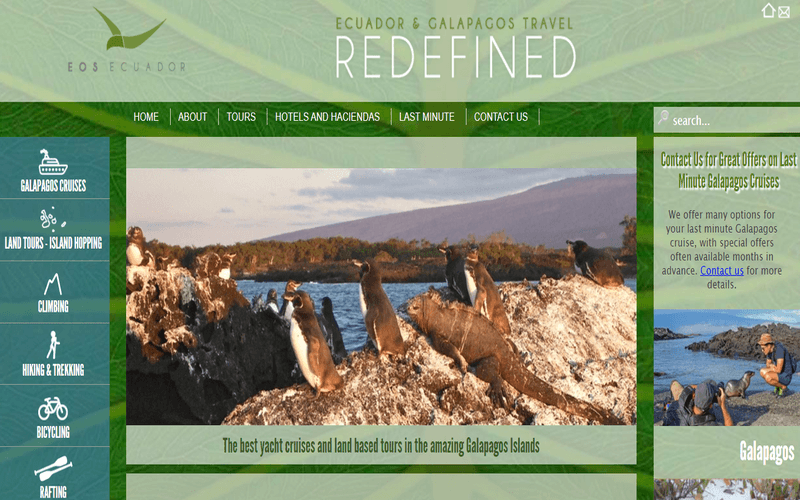 ---
Specializing in multi-day outdoor trips in Ecuador, this top Ecuador, and Galapagos tour company is all about tailor-made itineraries for the adventurous. If you're more of an independent traveler, this Ecuador travel agency also offers active day trips, like horseback riding in Cotopaxi National Park and tours to Papallacta Lagoon for a soak in the hot springs. See the Galapagos in style with Ecuatraveling on a first-class or luxury cruise with spacious suites, which run up to 8 days and accommodate up to 16 guests. Or explore the islands on a land tour for close-up encounters with its unique natural wonders. Discover the Amazon in-depth and learn about the flora, fauna, and flooded rainforests of Cuyabeno and Yasuni National Parks.
---
Run by a team of dedicated and in-the-know locals, Galapagos Insiders offers excellent personalized planning services and competitive pricing for tailored itineraries. From eco-friendly motor-sailboats to brand new single hull yachts, explore the Galapagos Islands on a 3, 4, or 5-star cruise, all of which accommodate up to 16 guests for an intimate experience. Or choose to discover the enchanted islands by land, and spend time mountain biking, hiking, and snorkeling on different islands with stays in comfy hotels and private cabins. To get to know the Amazon, stay in a lodge, or opt for a 4, 5, or 8-day river cruise, or join an expedition to visit the remote Huaorani tribe deep in the Ecuadorian rainforest. For an incredibly immersive experience, get to know the tribe's way of life and participate in jaguar tracking, caiman spotting, and piranha fishing.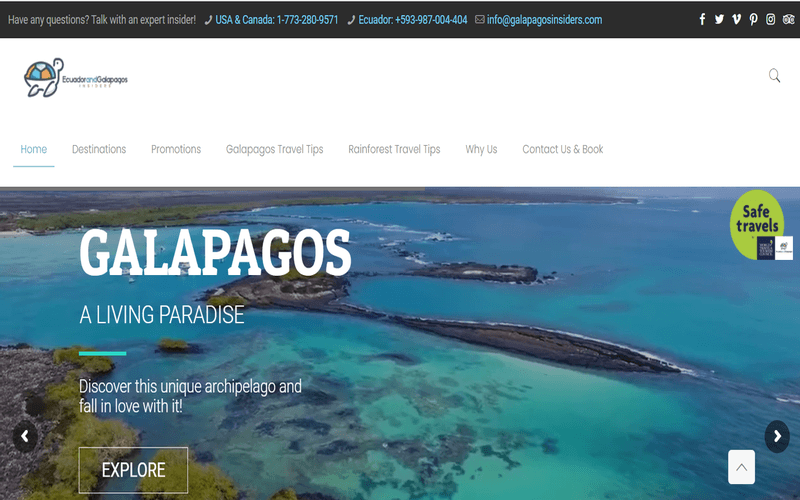 ---
Founded in 2006, Nature Galapagos & Ecuador is dedicated to delivering authentic and enriching experiences to travelers. They offer a number of standard itineraries, which can be personalized to fit your accommodation style, physical activity level, and type of desired experience. Explore the pristine jungle on multi-day Amazon tours and take part in jungle walks, canoe rides, and bird watching to learn about the diverse ecosystem. With lodges located in the Cuyabeno and Yasuni Reserves, there's no shortage of opportunity to learn from and interact with the local community. Their Galapagos Land Tours allow travelers to explore a new island via daily guided excursions, and sleep in locally-owned hotels for the night. For a more luxurious Galapagos experience, opt for a 4 to 8-day cruise around the islands in yachts and sailing ships. For licensed scuba divers, they offer multi-day diving tours to explore the region's marine life. But if you're new to the scuba scene, then the Discovery Diving Program is designed specifically for eager beginners.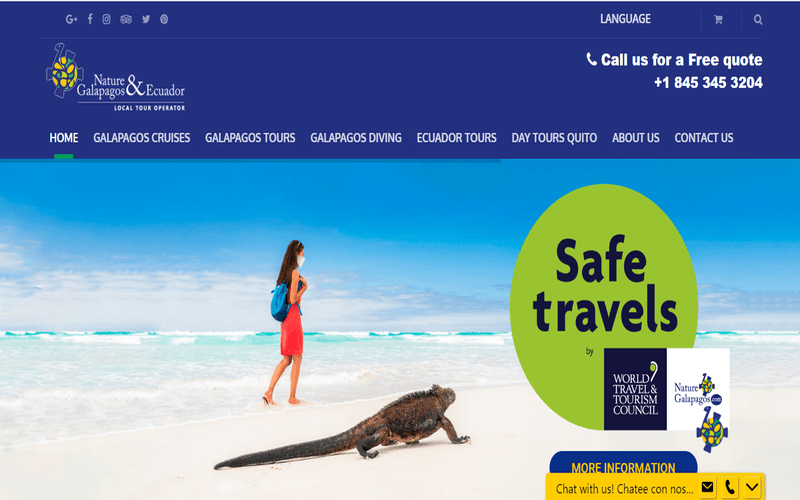 ---
#2 Happy Gringo
Summit the volcanoes of Ecuador on an active backpacking trip, go horseback riding through the cloud forests of the Andes, or spot wildlife in the Amazon with a custom-designed itinerary by Happy Gringo. For the ultimate Galapagos experience, charter your own cruise for your family or friends and discover the enchanting islands with just the captain, crew, and expert guide. Or join other travelers and pick from dozens of cruise ships depending on your budget, desired amenities, and comfort level, from budget-friendly to luxurious modern catamarans. Their cruises range from anywhere between 4 and 15 days. Explore the Amazon by basing yourself in cozy lodges, on comfortable cruises, or on thrilling activity tours that include kayaking and forest camping. This top Ecuador and Galapagos tour company also supports local charities by donating clothing and school supplies to underprivileged kids in the community of Techo Propio.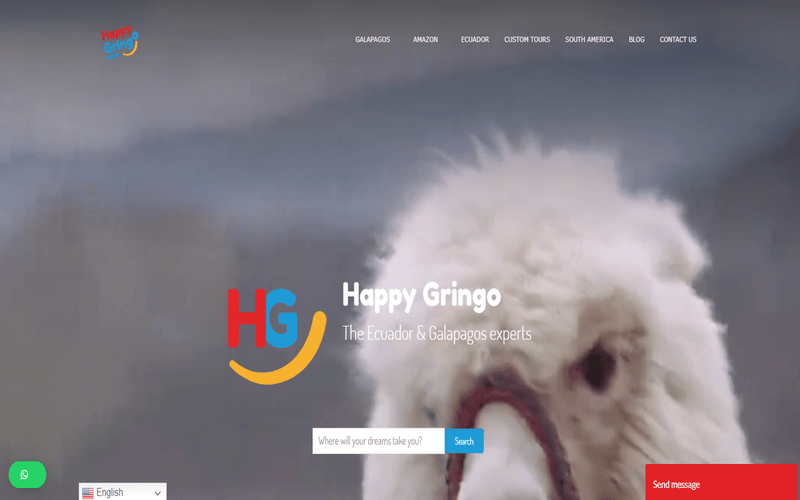 ---
Offering private, custom, honeymoon, family, and train tours to Ecuador, Latin Discoveries serves travelers with a wide range of interests. This tour company stands out for the quality of Galapagos cruises, as they offer small group experiences for up to 16 passengers in modern and remodeled ships only. Pick from eight different ships across four categories. For those who prefer to spend more time on land, their Galapagos land tours present a unique alternative to the traditional cruises, where you'll explore a new island each day by yacht, and return to your hotel in Santa Cruz in the evenings. Discover the magic of the Ecuadorian Amazon on a high-quality river cruise or rainforest lodge tour. And for the ambitious traveler, combine this trip with up to five other South American countries for the ultimate journey. With local offices in Quito, you'll have access to round-the-clock support when you travel with Latin Discoveries. Plus, 1% of the proceeds goes to protecting South America's wild through their partnership with NGO Nature & Culture International, which means you're making a difference!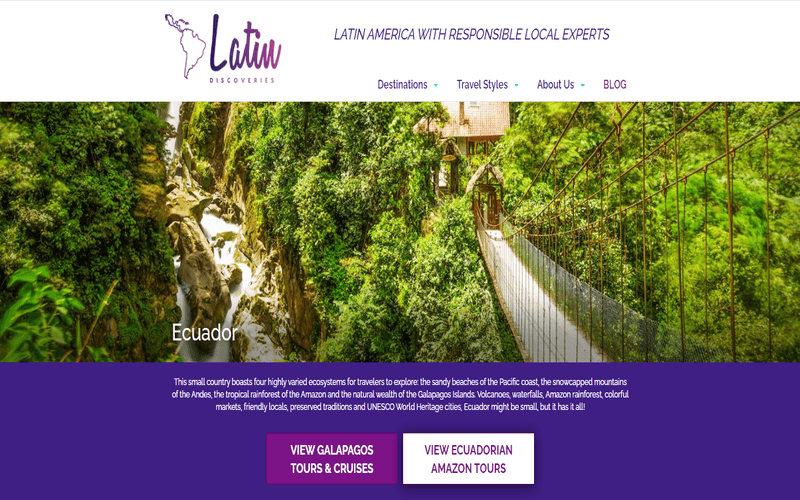 ---
Finding the best Ecuador and Galapagos travel agency for your needs and interests will help you discover the hidden gems and create unique experiences for an unforgettable time in the country. Get in touch with a few tour operators today to learn about their selection of Ecuador tours and see which one resonates with you most.