With colorful Indigenous communities, ancient archaeological sites, and a lush jungle region, it's no wonder Peru is a heavy favorite in South America. Whether your dream is to sandboard down the dunes of Huacachina, follow in the footsteps of the Sapa Inca by conquering the Inca Trail, or learn how to make ceviche, working with the right travel agency will help you make the most of your time abroad.
We know there's a dizzying amount to choose from, so we've narrowed it down to ten of the best Peru travel agencies, taking into account the presence of local offices, their number of years in the industry, commitment to sustainability, and range of Amazon and Peru tours on offer.
---
# 10 Alpaca Expeditions
Founded in 2012, Alpaca Expeditions focuses on the avid trekker and offers a host of quality and personalized Peru tours. They offer the classic treks to Salkantay and Humantay Blue Lagoon and give trekkers on the Inca Trail the option to stay at campsites or in hotels, depending on their style and preference. Those who like to see the country at a more relaxed pace can go for a scenic tour by van or train, and travel between Machu Picchu and the Sacred Valley with opportunities along the way to visit the Pisaq ruins and market. This Peru tour company collaborates with locals to overcome social and economic challenges by regularly giving back and donating personal care items and school supplies to villages in need.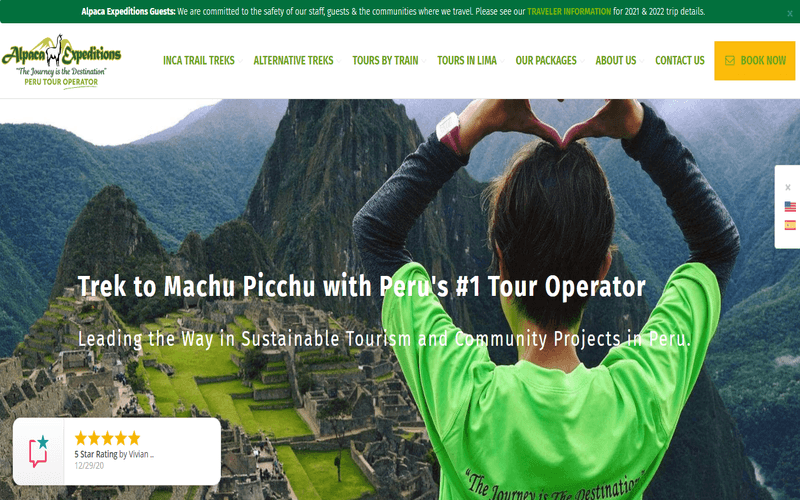 ---
# 9 Peru Travel Company
With its main office in Cusco, Peru Travel Company largely operates in this region and offers travelers an exciting mix of classic city tours and extreme adventures. See Colca Canyon, Lake Titicaca, and the Nazca Lines, or take part in a multi-day trek on the Inca Trail. If you're short on time but still want to take part in the action, they have a number of options for full-day bike or rafting tours from Cusco. Among tours to Puno, Arequipa, and Machu Picchu, there are also tours to Puerto Maldonado and Manu Natural Reserve in the Amazon Jungle, where you have the option to stay at campsites or sleep in lodges. A part of this Peru tour company's proceeds goes to constructing schools in their local community.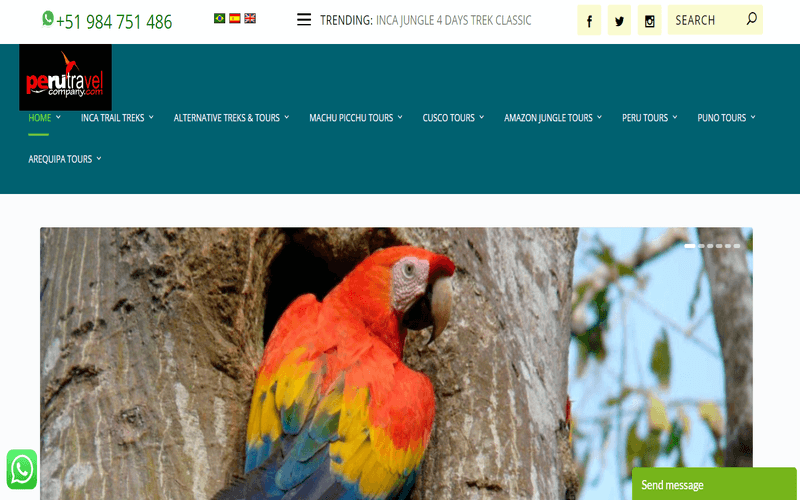 ---
# 8 Peru Luxury Travel
Based in Cusco, the team at Peru Luxury Travel is made of expats from the US who've traveled Peru and the rest of South America extensively. They specialize in customizing first-class and luxury vacation packages with the promise to exceed your expectations. Depending on your comfort level, you can select from a range of accommodation options to suit your needs, from three-star boutique hotels to five-star exceptional luxury hotels. Peru Luxury Travel has adventure, cultural, and ecological tours, as well as a selection of multi-day treks to Macchu Pichu. History buffs will delight in exploring the ancient Inca sites of the Sacred Valley in and around Cusco on a Path of the Inca Tour. Those who want to discover the Peruvian jungle can choose from land-based Amazon tours where you sleep in cozy lodges or explore the region by a cruise on the sophisticated Delfin I or II.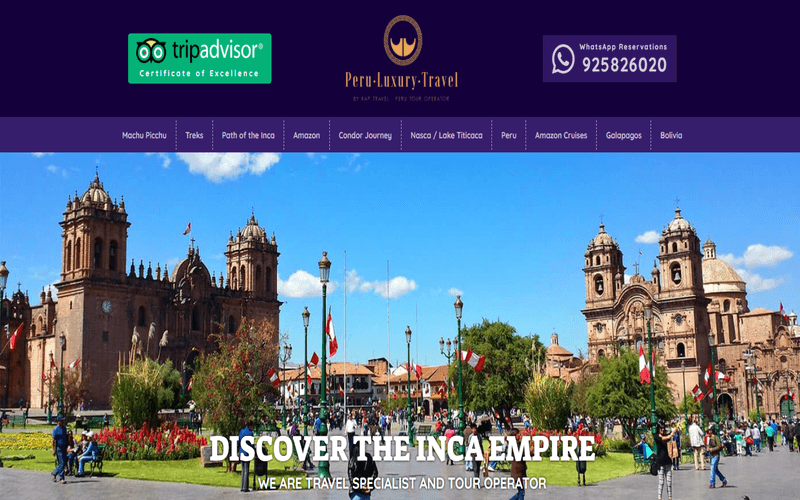 ---
# 7 Peru Grand Travel
With over 10 years of service in the tourism industry, Peru Grand Travel is skilled at organizing Peru tours to over 20 destinations in the country, including Cusco, Lima, Arequipa, and Puno. These range from full-day tours, like a Rainbow Mountain hike, to multi-day adventures that combine the country's different regions. With their collection of Machu Picchu tours, travelers can choose to see the ancient citadel in one afternoon or combine it with a visit to Sacred Valley, Maras Moray, and Salineras on an eight-day tour. Their package Peru tours are organized by the type of experience you want, like a luxury, adventure, or archaeological if you have a special interest in visiting sites and ruins to rediscover lost civilizations.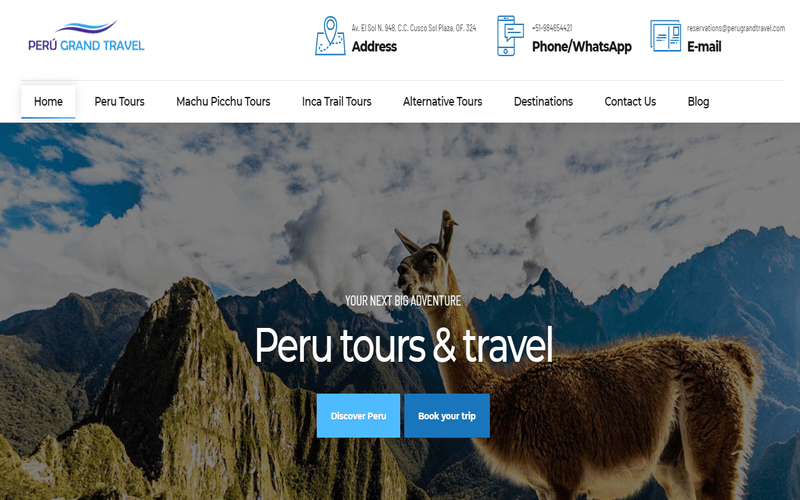 ---
# 6 Viva Peru
Viva Peru designs authentic and meaningful trips so travelers can explore the country off the beaten path without missing the highlights. This top Peru travel company's diverse collection of 80 tours consist of full-day excursions, like to the Uros Floating Islands, as well as multi-day treks for the outdoorsy, which include options for Colca Canyon and short sections of the Inca Trail. Aside from tours to Puno, Arequipa, Cusco, and Machu Picchu, Viva Peru also offers a four-day one to Manu National Park in the unspoiled region of the Amazon, where you can visit cloud forests, go for jungle walks, and cruise Machuhuasi Lake while spotting wildlife.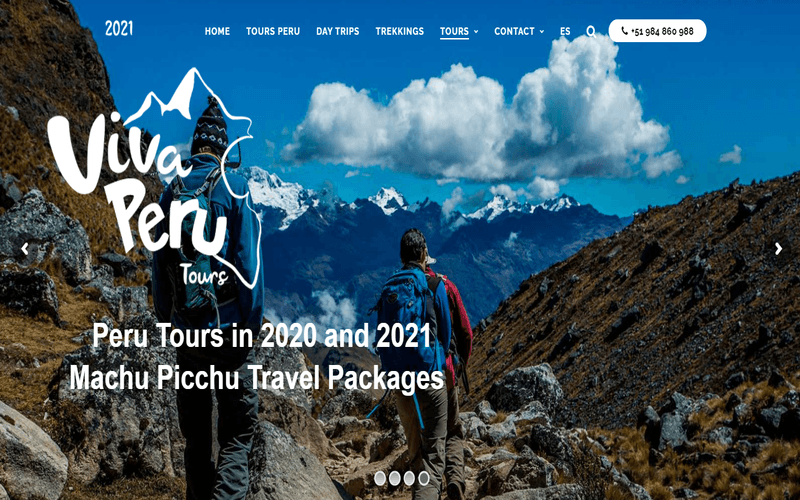 ---
# 5 Inkayni Peru Tours
Focused on sustainable tourism, family-run Inkayni Peru Tours crafts quality tours to various regions of the country while using travel to better the local communities. While their multi-day luxury, adventure, and cultural tours fit a range of travelers, Inkayni Peru Tours focuses on the adventure traveler and avid hiker, with a wide variety of organized biking, ziplining, and horseback riding tours in regions throughout the country. They also offer two to seven-day treks on a number of trails. Inkayni Peru Tours practices environmental responsibility by organizing annual campaigns to remove trash from the Inca Trail, and the Salkantay and Lares Treks. Plus, they donate 5% of proceeds to small communities through the Inkayni Foundation to fund warm clothing and educational materials.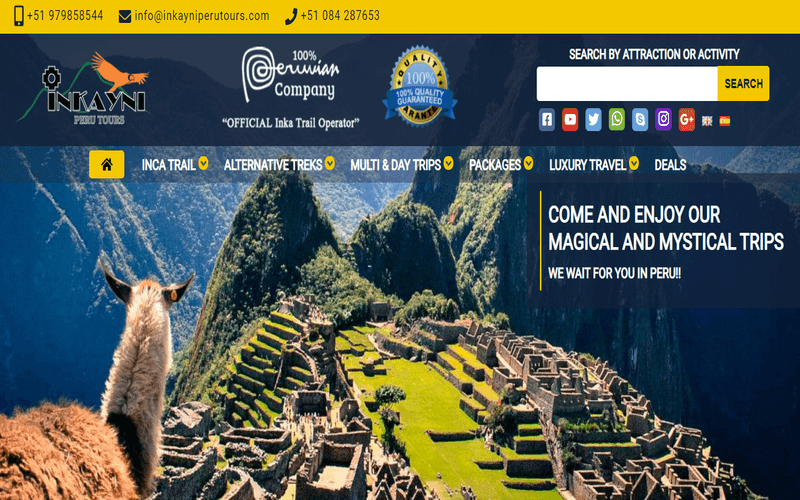 ---
# 4 Machu Travel Peru
This family-owned and operated Peru travel company has vast experience serving a number of individuals, couples, small groups, and solo travelers from America, Canada, the UK, and Australia, and prides themself on their high-quality services. Machu Travel Peru has got over 30 pre-made itineraries and is happy to customize what you need if it's not already there. They feature two types of tours to destinations throughout the country: Classic Peru Tours which introduce you to the country's highlights and most anticipated sites, and Luxury Peru Tours which are private and include exclusive experiences. For those who want to experience the Amazon, there are two tours to Puerto Maldonado, which consist of staying in a jungle lodge, taking part in interpretive treks, canoeing, and wildlife spotting.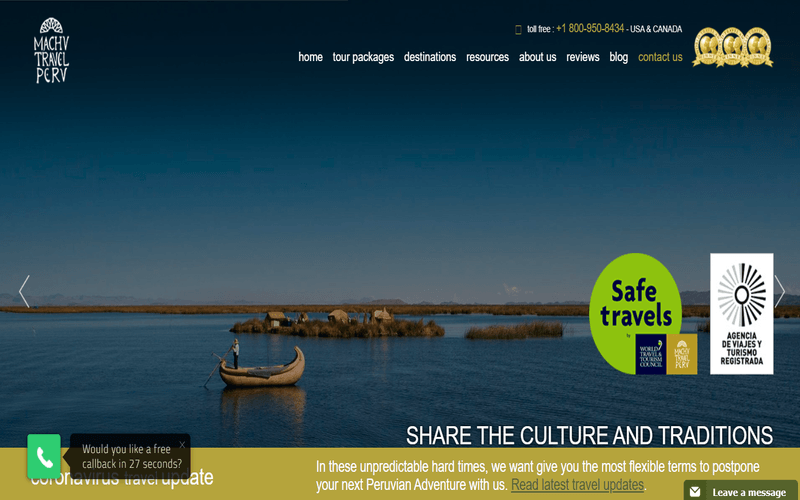 ---
# 3 Best of Peru Travel
The staff at Best of Peru Travel have lived in the country for seven years, and have explored every nook and cranny to bring you the best recommendations. They've teamed up with Guiding Peru and Urban Adventures to offer a wide range of Peru package tours to suit your needs, whether you're looking for a half-day Pisco making tour, or an eight-day cultural tour of historic Cusco. You can even browse their website by destination and customize your own travel itinerary to Lake Titicaca, Lima, the Sacred Valley, and beyond. Their website also includes information on restaurants, hotels, and nightlife for each destination to streamline your trip planning process.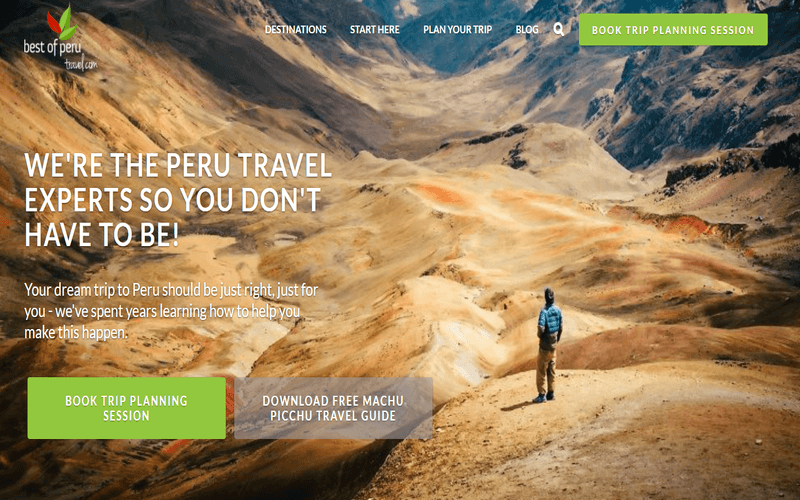 ---
# 2 Peru Explorer
Founded in 1998, Peru Explorer has served over 20,000 happy travelers. Every one of their Peru tours is fully customizable according to your budget, pace, and style. Whether you want to hike the Inca Trail to Machu Picchu, tour Cusco, or visit an alpaca farm, Peru Explorer promises the best value for your trip. This Peru tour company also offers dozens of multi-day tours to the Peruvian Amazon that highlights the diversity of the region and range from two to five days in length. Choose whether you want to explore the lowland or highland jungle via a road trip, on an expedition, or by cruise.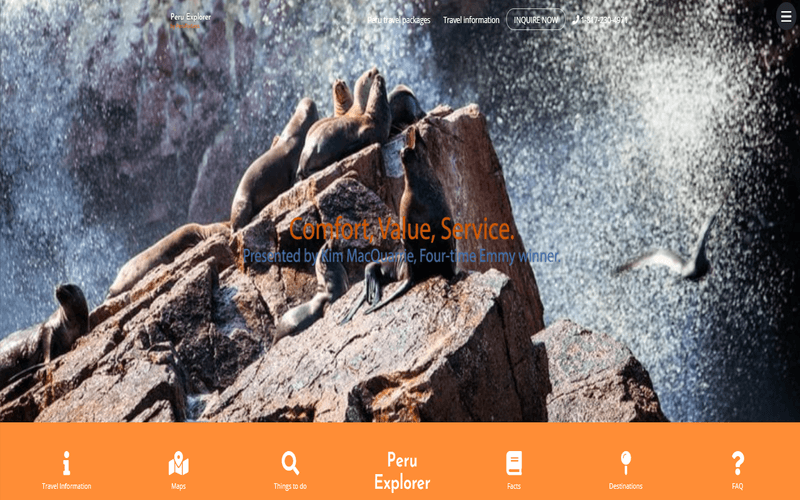 ---
In operation since 1997 and staffed by a team of knowledgeable locals and experienced travelers who've all worked in tourism for at least five years, Latin Discoveries only recommends the best for their clients. Staff is consistently trained and personally visit the country's newest hotels and restaurants each year. And with four local offices and 60 employees in the country, you can always count on quick and reliable on-the-ground assistance. Aside from adventure, trekking, and self-guided tours, Latin Discoveries also offers romantic honeymoons and family-themed trips to Peru. For those who want to explore the Amazon, there's a dedicated section for fun jungle lodge-stays and exciting cruises, in which you can combine with up to five other South American countries for one grand vacation. With over 50 Peru tour itineraries to choose from, an average of 2,000 clients travels to Peru with Latin Discoveries each year. Plus, this tour company is committed to preserving South America's wildlife through its partnership with NGO Nature & Culture International.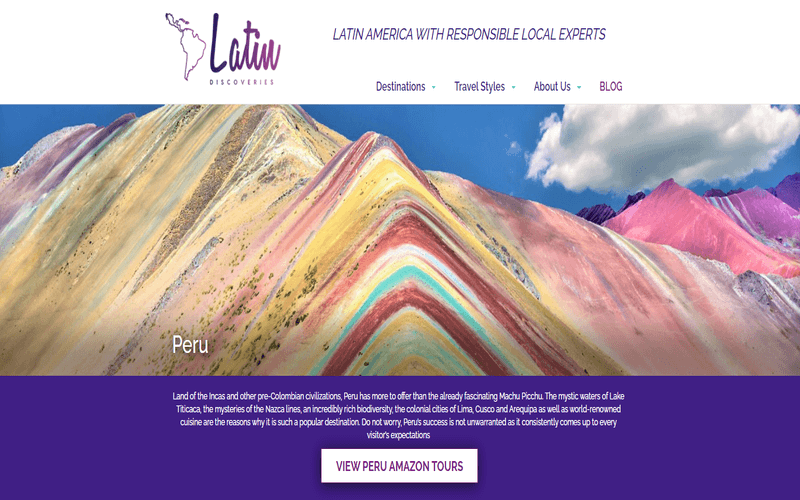 ---
Travel agencies work to streamline your planning process by crafting the perfect Peru tour for your unique needs. With their help, you can go on your dream trip to Peru worry-free and spend time enjoying the sights and sounds and discovering the cultural identity of each destination instead.