A simple Google search for the best South America travel agencies gives hundreds of results. While some offer group tours, others specialize in tailor-made and luxury tours. But with so many options, it's hard to decide which ones are trustworthy, if their tours meet your travel needs, or if they're even worth your money. So how do you know which are the top South American tour companies? Lost among the slew of tour operators that organize trips to any destination around the world, we've handpicked some of the best travel companies in South America that are focused solely on those destinations, which makes these agencies true experts in this region.
We indeed spent hours scouring the Internet and comparing dozens of them before rounding up 10 of the best South America tour companies. Here's what we based our decisions on the thoroughness of their website and presence of online tour offers, whether or not the company's focused on a certain type of traveler, and their support for sustainability. But by far the most important criteria is the existence of local offices, which can provide you with the lowest tour prices, local knowledge of a destination, and quick and direct assistance when needed during your trip to South America.
---
#10 Latin Excursions
As a member of Traveller Made, which is a network of luxury travel designers, Latin Excursions works to provide you with bespoke and authentic experiences in Argentina, Brazil, Chile, Colombia, Cuba, Ecuador, Galapagos, Panama, Peru, and Uruguay. This South American travel operator offers both pre-designed and custom journeys, and whether you want to adventure, rest and relax, or enjoy family time in style, all of the tours are private. Latin Excursions truly believe that only private tours have the ability to take you to places that other tourists can't easily reach, which makes for exclusive experiences. Plus, by traveling with Latin Excursions, you're helping them support a number of organizations like Foundation La Vecina, Tomas De Berlanga School, Morrinho Art Project, and Mantay, all of which work to provide safe and supportive environments in communities throughout South America.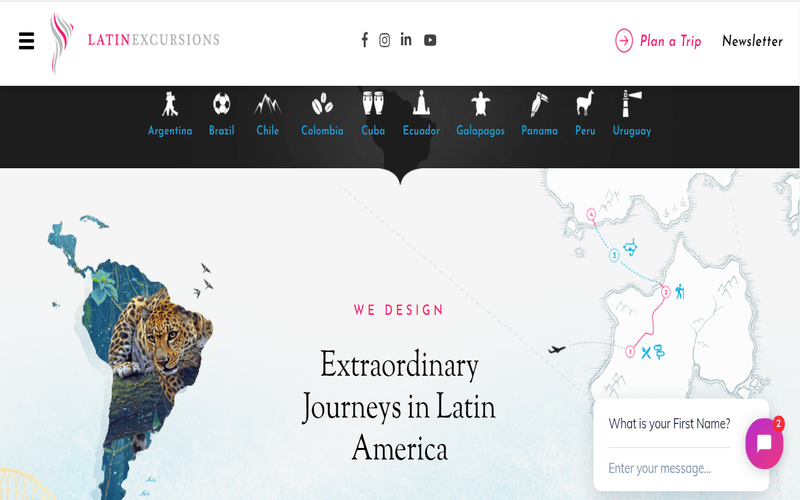 ---
#9 Southern Explorations
Based in the US, Southern Explorations offers active travelers the opportunity to ski, stand-up paddle, snowshoe, and camp in 12 countries that include Argentina, Bolivia, Brazil, Chile, Colombia, Costa Rica, Cuba, Ecuador, Panama, Peru, and Uruguay. Big on adventure travel and sports, in particular, this agency has even curated a bucket list that highlights once-in-a-lifetime experiences like trekking through the Torres del Paine, rafting in Costa Rica, and cruising the Amazon. Aside from supporting four different sustainable travel initiatives, Southern Explorations also gives you the chance to be responsible travelers by participating in a carbon offset program.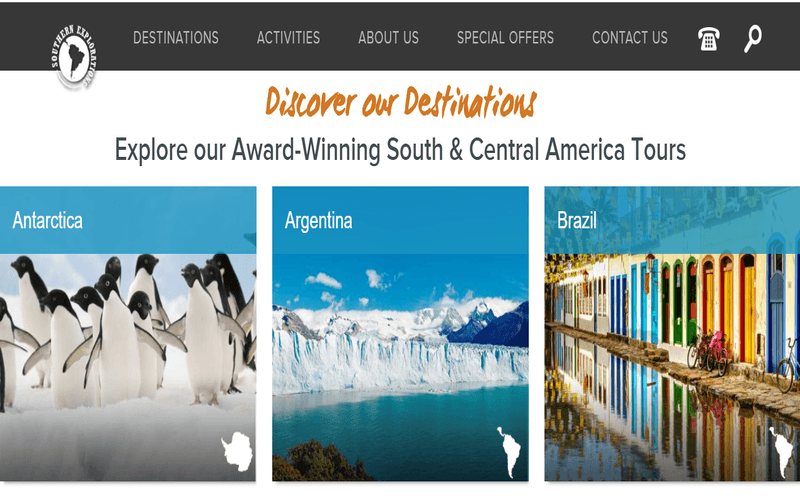 ---
#8 SA Expeditions
Focused on adventure travel and the outdoors, SA Expeditions aims to use a variety of trekking and active tours to give their guests an inside look at the issues surrounding conservation and sustainable tourism in Argentina, Chile, Brazil, Bolivia, Ecuador, Peru, and Antarctica. This California-based travel agency takes an intensive approach to plan low-impact tours to underrated parts of South America. For those who dream of getting off the beaten path in Ecuador or in the northern Andes of Peru, they offer a number of trekking options for the Great Inca Trail and even arrange for llamas to transport your luggage, which is a fast-disappearing practice. With their only office in San Francisco, SA Expedition vows to use travel to protect South America's vulnerable communities and bring fair income to their people.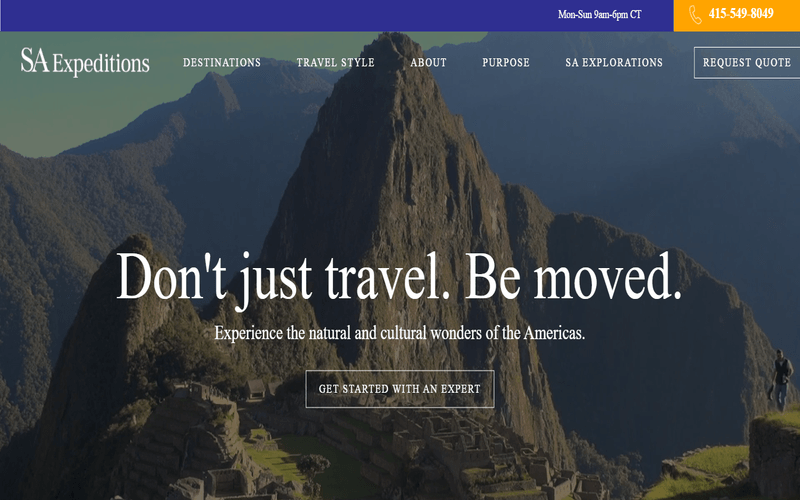 ---
#7 Chimu Adventures
For the ambitious traveler who wants to experience it all, Australia-based Chimu Adventures offers tours to 22 destinations in South America, Central America, Antarctica, and the Arctic. Their vast number of itineraries aim to suit the different travel needs and ages of travelers, with cruises to the Polar regions and high-energy trekking options to Patagonia. Their comprehensive website packs in all the information you need to know, from required vaccinations to packing lists for each destination. They're an eco-savvy business and on the ground, they create jobs in destinations where they lead tours and serve guests with meals sourced from locally produced goods instead of imported goods. In the physical offices in both Sydney and Lima, Chimu Adventures practice environmental sustainability by going paperless and giving 10% of earnings from each package tour back to local communities through their MAD Project.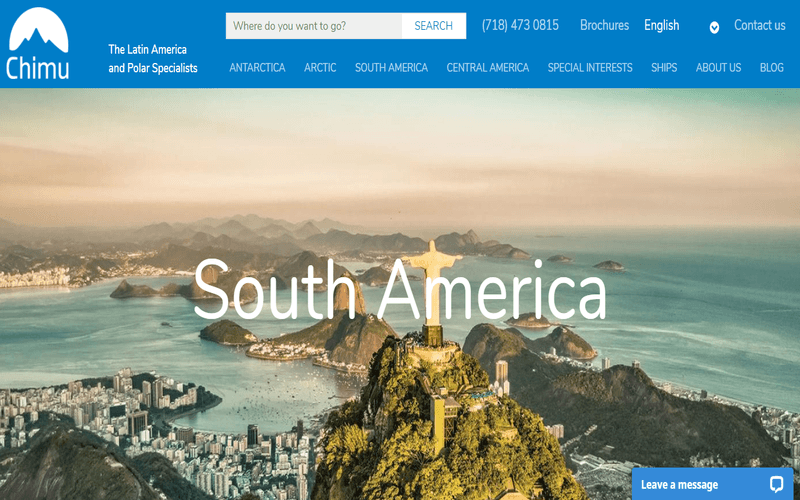 ---
#6 South American Vacations
Based in Florida, South American Vacations organizes tours to six South American countries, as well as Costa Rica, Guatemala, Panama, Cuba, and Antarctica. Though they don't have any offices on the ground in South and Central America, their local guides and experts never fail to meet your travel needs, in part because they specialize in private and small group tours that only allow for up to 20 people per group. This company offers an especially vast range of tours for the outdoor adventurers, designing itineraries that invite you to zipline through Costa Rica and sea kayak in Ecuador. For those who enjoy the outdoors at a more mellow pace, there's wildlife viewing in Brazil's Amazon, or horseback riding in Peru.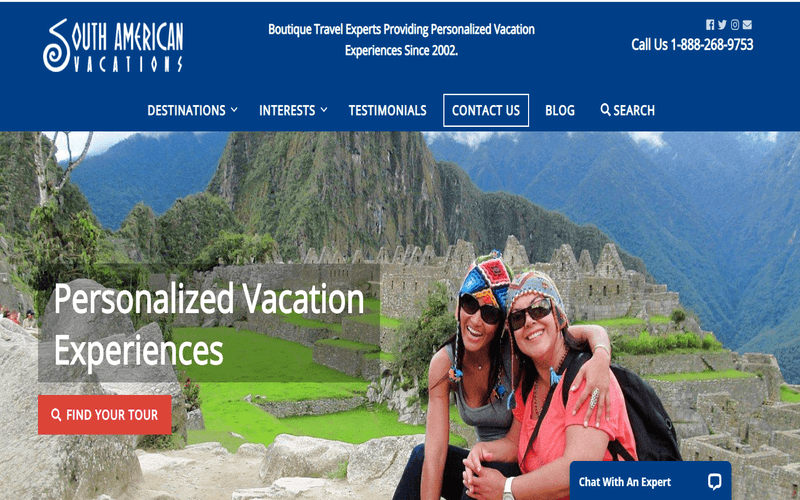 ---
#5 Vaya
Headquartered in California, the team at Vaya is made up of American ex-pats and caters largely to North Americans. They don't have any local offices, but their customer care and quality of service are first-rate, as they have deep connections with a large network of local guides on the ground in Argentina, Bolivia, Brazil, Chile, Colombia, Ecuador, and Peru. Vaya is deeply committed to sustainable tourism and respects the local communities that they offer tours in by organizing small-scale and low-impact tours that are led by fairly paid local guides. They proudly support three different organizations that focus on practicing sustainable tourism, protecting delicate ecosystems, and improving the livelihood of the communities in which Vaya organizes its tours.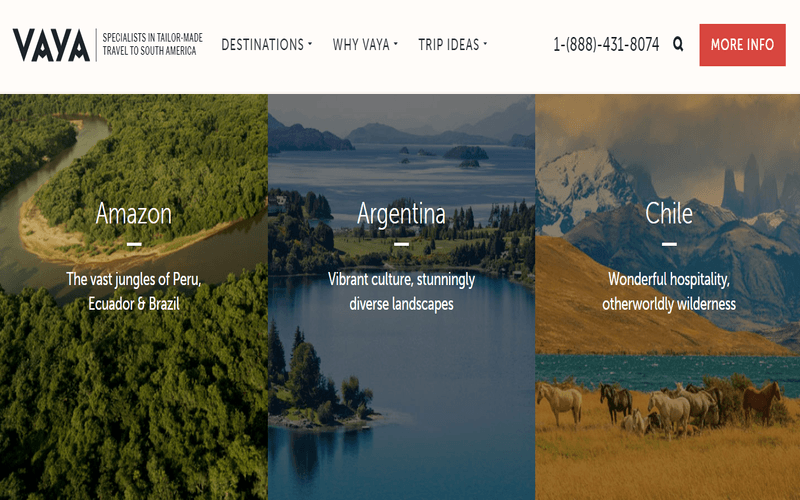 ---
#4 Totally Latin America
Catering to luxury travelers with the highest regard for service and quality, Totally Latin America crafts each itinerary with fine attention to detail. To ensure each guest receives a highly personalized experience from trip planning to actually be there, Totally Latin America has partnered with Zicasso, a business that matches your unique needs and interests to the most suitable travel expert at Totally Latin America. They design journeys to destinations in five countries, which include Argentina, Brazil, Chile, Ecuador, and Peru, with their local office stationed in Cusco. Browse their Travelogue section, which gives you ideas about what you can do in each destination, as well as accommodation options in blog post form. When you travel with Totally Latin America, you also make a promise to promote responsible travel and conserve the immense diversity of Latin America.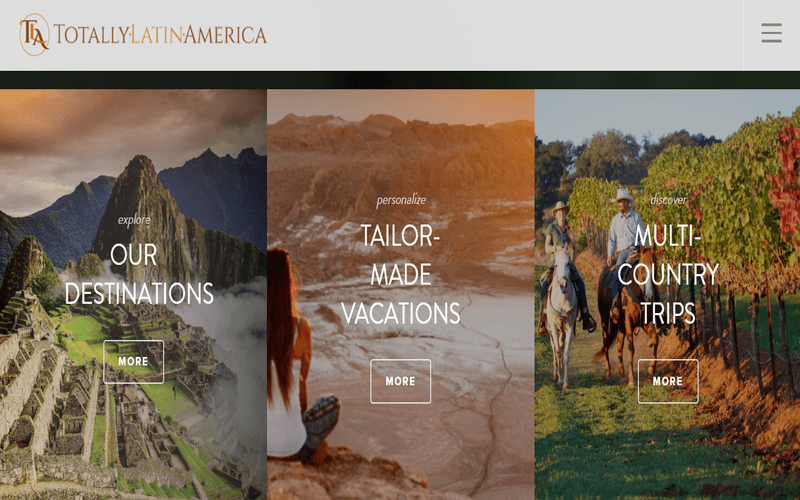 ---
#3 South America Travel Centre
Any journey you book with this Australian-owned travel company to any part of South America, Mexico, Cuba, Costa Rica, Panama, Guatemala, or Antarctica is tailor-made. As one of the best South American travel companies, they're hyperfocused on delivering private experiences. Since each trip is highly personalized, you travel in your own group with a private guide. Though South America Travel Centre doesn't have any local offices apart from the one in Melbourne, they guarantee 24/7 assistance with the help of their in-country partners once you're at your destination. This travel agency strongly believes that businesses should give back and are doing so by supporting a rotating list of charities. Two of their current ones are Sol Y Luna, which works to provide education for children in Peru, and Halo Trust, which funds the safe removal of landmines in Colombia.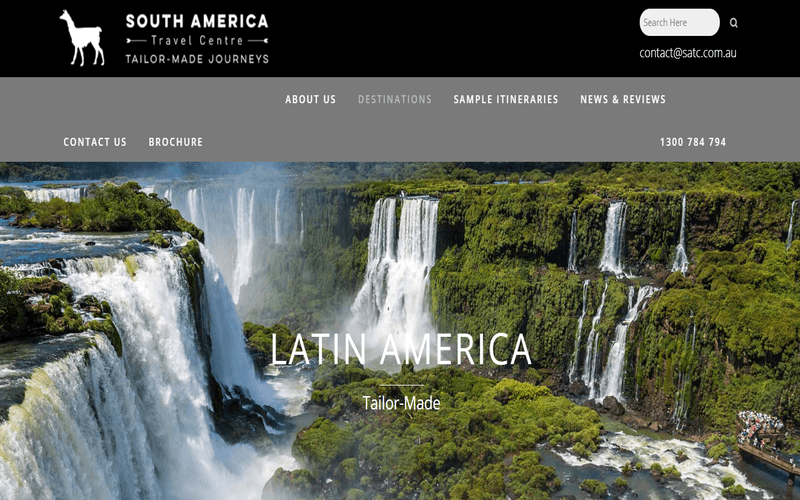 ---
#2 Journey Latin America
As a multi-time winner of the British Travel Awards and a host of other prestigious ones, Journey Latin America specializes in organizing group and private tours for British travelers to 23 South and Central American countries, as well as Antarctica. With over 40 years of experience, this South American travel operator has really paved the way in using sustainable travel to boost a country's development and preserve their culture and heritage. They focus heavily on responsible tourism, and you'll be delighted to learn that Journey Latin America supports a number of conservation projects throughout Latin America, like the LATA Foundation, and Water To Go. Their website even has detailed information on eco-conscious accommodation options so you make an informed choice about your stay. Though their sole office is based in London, their live chat is highly responsive during their office hours.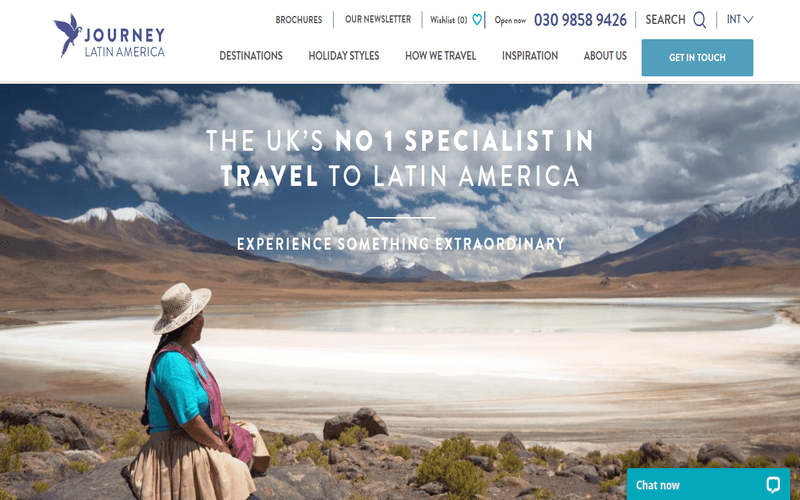 ---
With 9 local offices in South America's most touristic cities, Latin Discoveries makes sure there's someone on-site to meet your travel needs anytime you book with them. Their team is made up of a huge majority of local South American travel experts who know the ins and outs of each destination they promote and have been offering private and custom tours to an international clientele since 1997. Since then, their services expanded online from luxury to adventure, with over 300 customized tours, and hundreds of travelers choose to book with Latin Discoveries each year. For ambitious travelers, this company offers multi-country tours, serving up itineraries that include up to six countries in one go. Another one of their biggest strengths is their extensive selection of Amazon lodge and cruise tours in Brazil, Ecuador, and Peru. Last but not least, when you purchase a tour with them, you're also giving back to protect South America's wild, as 1% of all earnings go to Nature and Culture International, an NGO that works to preserve the continent's endangered ecosystems.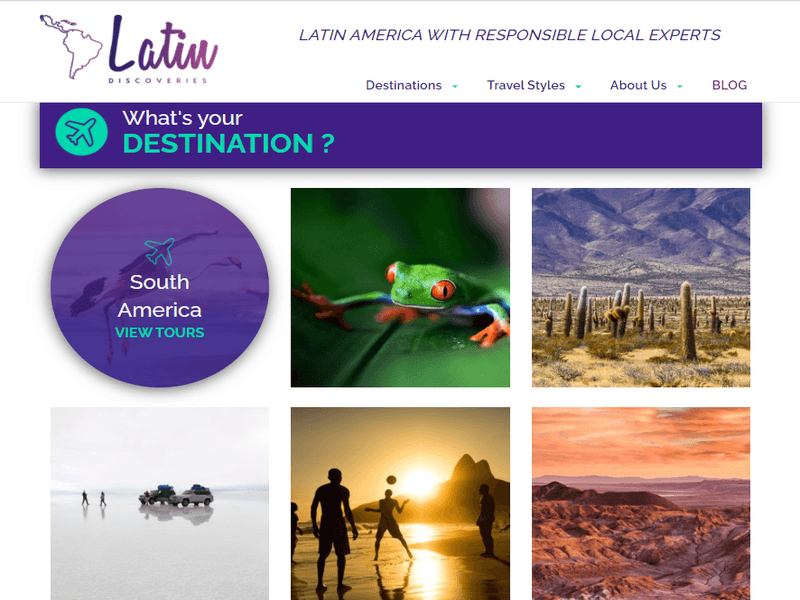 ---
With so many top South American travel agencies listed here, there's no wrong choice. To narrow down the list and make sure you choose the right one for your needs, we recommend you contact three of them. Compare the website of each of the agencies you've chosen and their range of tours, and get in touch with their travel consultants. See how professionally and quickly they respond to your needs, study their detailed itineraries, and of course their prices. By then, you should be able to decide which South American travel company speaks to your travel needs the most. You should then be set to make a final decision before packing for an amazing trip to South America!